Disaster Recovery Planning and Implementation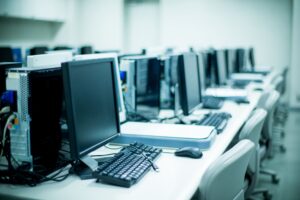 You may be asking, "Why does my business need a Disaster Recovery Plan?"
Loss of data can be devastating to a business, as next to your employees the data your company produces is probably its most important asset, and if you haven't taken steps to safeguard this data then any event which could damage said data could potentially put the life of your business at risk.
So why do I need to plan for this, we have backups in place?
Traditional backup methods are rife with potential problems; they are susceptible to the environment in which they reside, such as fire, floods, or even damage from dirty mains. Hard drives are also susceptible to internal failure. They have a limited lifespan, limited storage capacity, and backups are only half of the solution. What happens if you have data after an event? How do you get it back? What about the machines it came off? Do you still have the software you used to back up the data? These are just a few of the questions relating to getting your business working after a disastrous event.
Every business should have a disaster recovery procedure in place to get it back up and working in the event of Fire, Theft, Floods or other events beyond your control.
How would you cope with the following scenario?
Theft – As a business owner we all dread the phone call in the middle of the night to say our premises have been broken into. Well, how would your business cope if all your office PCs were stolen? What would be your course of action the next morning to protect your revenue stream?
Fire – Many businesses who have suffered a fire, find it hard to recover from the resulting loss of hardware and more importantly, data. Let us for a moment, imagine your business has been so affected, how, for example, do you tell the insurance assessor what items you had in stock at the time of the fire?  How would you recover from such an event?
Flood – Computer equipment and water obviously do not work well together. Recently, possibly due to the well-publicised climate change issues, there have been many more areas affected by flooding.  How would you avoid an extended downtime period, which could irreparably damage your business?
Data Corruption – All the above scenarios are from outside influences, but this may not always be the case. Hard drives only have a finite amount of life, and mains electrical problems such as spikes may cause them to stop working. Recovery from damaged hard drives, while not impossible, is still a very expensive procedure, and more importantly, time-consuming. Typically hard drives that need such action, will have to be sent to a specialist cleanroom facility to be dismantled before the data can be recovered and can cost thousands of pounds.  Again, this could cause catastrophic damage to, even a financially secure business.
Malicious intent – Whether this is from a disgruntled employee or from Malware  (software which once on your machine will either lock the machine or encrypt the files contained on it). Typically this encryption will lock all your files and until a ransom is paid will render all files useless. See Ransomware on Wikipedia also search for Crypto Locker!  How would you manage such a challenging situation?
Taimo Networks understands the importance of your company data, it is the lifeblood of your business and because of this, we offer a range of backup and disaster recovery plans to help with recovery, in case the very worst happens. These range from Data Recovery plans, loan computers, Data backup and recovery, or just helping you set up temporary email procedures so you can stay in touch with your customers outside your office.
Coronavirus
Coronavirus has meant lots of businesses have sat up and taken notice of how files are stored and distributed along with how secure their data is and during this time we have helped businesses put together disaster recovery plans alongside staff access via Virtual Private Networks (VPN) and remote working. With buildings being empty for extended periods the chance of any of the above has increased dramatically.
Features available
– Secure offsite replication
– Loan equipment after fire, flood or theft
– ISO accredited Data Centres
– Cost-effective
– Fully scalable with demand
– Pay as you grow
– Simplified and rapid restoration process
For further details on our disaster recovery plans please contact us on 0161 401 1970. Alternatively, please fill in the contact form below and we will call you back.
---
Let us call you back
---
What our customers have to say about our Disaster recovery plans
Hard Drive Crash
"We previously had a hard drive crash which contained all our company accounts for over 5 years, it cost us nearly £1200 to recover all the information and this doesn't include the time it took two of my staff, to re-input several months of information. Thank you for setting up our disaster recovery plan, we can sleep a little better at night knowing our data is securely backed up and we have multiple copies of it."
Gwen, Macclesfield
Building fire
"It was only after a fire that we realised, just how much we valued the information held on our server. It had taken us 10 years of business, to collect all this data and it was all gone. Firstly thank you for helping us piece some of the data back together and secondly, we are incredibly happy that we now have a robust backup procedure and we know we can rely on Tiamo Networks with loan equipment if we ever need it in the future."
Joanne, Matlock
Hard Drive Crash
"I'd just like to say a big thank you for your help over the last week. Losing the main machine in our preparation room proved to us, just how important this aging machine really was. Thank you for sourcing a 20-year-old hard drive and getting the machine back up and working. Attached is our purchase order, for the new equipment you recommended."
Henry, Leek